2021/2022 Academic Year Dates
September 7, 2021 to April 22, 2022
*Does not include winter closure in December (between Fall and Spring Semester) or Orientation (prior to commencement of Fall Semester)* See below for a cost breakdown
* costs last updated during May 2021
NOTE : To fill out your application for Residence we recommend using these web browsers : Google Chrome or Microsoft Edge
It is important that you have read and understand our COVID safety guidelines
To view our other COVID changes please review our COVID strategy
COVID Strategy
Modern Double Room (Apartments Only)
Traditional / Dorm - Single Room
Traditional / Dorm - Single Room
---
All Room Styles - 
Deposits, Fees & Payment Dates
$100 Residence Application Fee (Non-Refundable)
$500 Room Confirmation Fee (Goes Towards Rent - Non-Refundable)
Resident must pay the following 

room confirmation 

fee

 

and fees to VIU, in addition to non-refundable application fees:

 

Residence 

room confirmation fee 

of $500.00 

due on the deadline specified by VIU.

 
Residence fees are payable in accordance with the options below. Instalment payment options are provided for Academic Year residence fees and include a $100+tax administration fee for Option 2 and a $200+tax administration fee for Option 3. 
All payments are due by 12:00am on the specified payment date or a $50+tax late payment fee will be applied.
---
Meal Plan (Currently in Redevelopment)
Students in all room styles have the option of accessing the VIU Food Services Meal Plan.
To purchase, see VIU Card
Additional Services to Consider!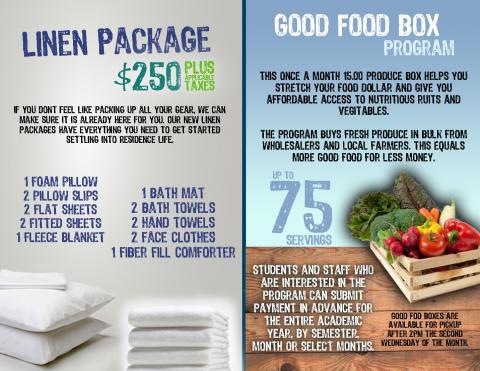 2021/2022 Academic Year Dates
September 7, 2021 to April 22, 2022
*Does not include winter closure in December (between Fall and Spring Semester) or Orientation (prior to commencement of Fall Semester)*
Semesters & Terms
| Semester | Move-In Day (9:00 am) | Move-Out Day (11:00 am) | Total Days in Term |
| --- | --- | --- | --- |
| Academic Year (Fall and Spring) | September 5 | April 23 | 230 |
| Fall Semester | September 5 | December 23 | 109 |
| Spring Semester | January 5 | April 23 | 108 |
| Summer Semester | May 1 | August 18 | 109 |
Term & Break Extensions
Term & Break Extension
Start
End
Fees
Days in Term
Academic Year
Winter Break
December 23
January 4
$200 flat fee
17
Residence Orientation Program *Dates to be Confirmed
August 30
September 3
$250 flat fee
5
Before Move-In Day or After Move-Out Day
As agreed with VIU
As agreed with VIU
$30/day or portion
As agreed with VIU
Summer Term
Summer fees are paid monthly with the balance due 10 days prior to the start of the next month.
| Building | Rate Per Month |
| --- | --- |
| Traditional Single | $795 |
---
Important Notes
There is a $100 non-refundable application fee to apply for a space on VIU Student Residences
Currently residence only offers rooms based on the above dates and term sessions. Partial terms are not available.  Students may apply for the fall term only but preference will be given to students who apply for the full academic year. If you require special accommodation please contact us at residence@viu.ca.
Students will be given the opportunity to give room preferences. However, all students will be assigned to a room based on availability. Unfortunately, we will not be able to accommodate everyone's room preferences.
Residence fees vary by residence area and room type. All fees are subject to the terms and conditions outlined in the student residence agreement. Rates may be subject to change without notice.
Failure to pay any residence fee by any posted or emailed deadline will result in the forfeiture of your room assignment.
All Resident fees do not include early move-in, early move out, orientation programs or winter break.
Student's will be allowed to store their belongings in their room over the winter break but will not have occupancy of the room. Student's wishing to occupy the room must submit the Winter Break Application form and pay a $200 fee.
Charges will continue until all assigned keys are returned to the Front Desk. All cancellations or early-move out's will be subject to the cancellation charges outlined in the Student Residence Agreement.
There is a $38 service charge on returned cheques and a $50 late payment fee assessed on all late payments.