NOTE: Storm the Shore Orientation is a charge of $250 plus applicable tax.  Any Residence student requiring early move in (prior to our official move in date of September 5, 2021) is automatically signed up for our Orientation.
Storm The Shore: Residence Orientation
Storm The Shore is an opportunity for new students to explore the campus, meet the Residence Life Staff, and make new connections with their peers. This years orientation will be quite a bit different that what we have provided in the past, and that's okay. Again this year in partnership with RockVIU, VIU is provided a mix of virtual and in person orientation that consist of a full week of virtual connection events as well as a week of mixed virtual and in person events aimed to explore the theme of Connect, Engage, Discover. 
We are in the process of developing and planning our Storm the Shore Orientation, please take a look at our current Residence Storm the Shore Orientation for Fall 2021.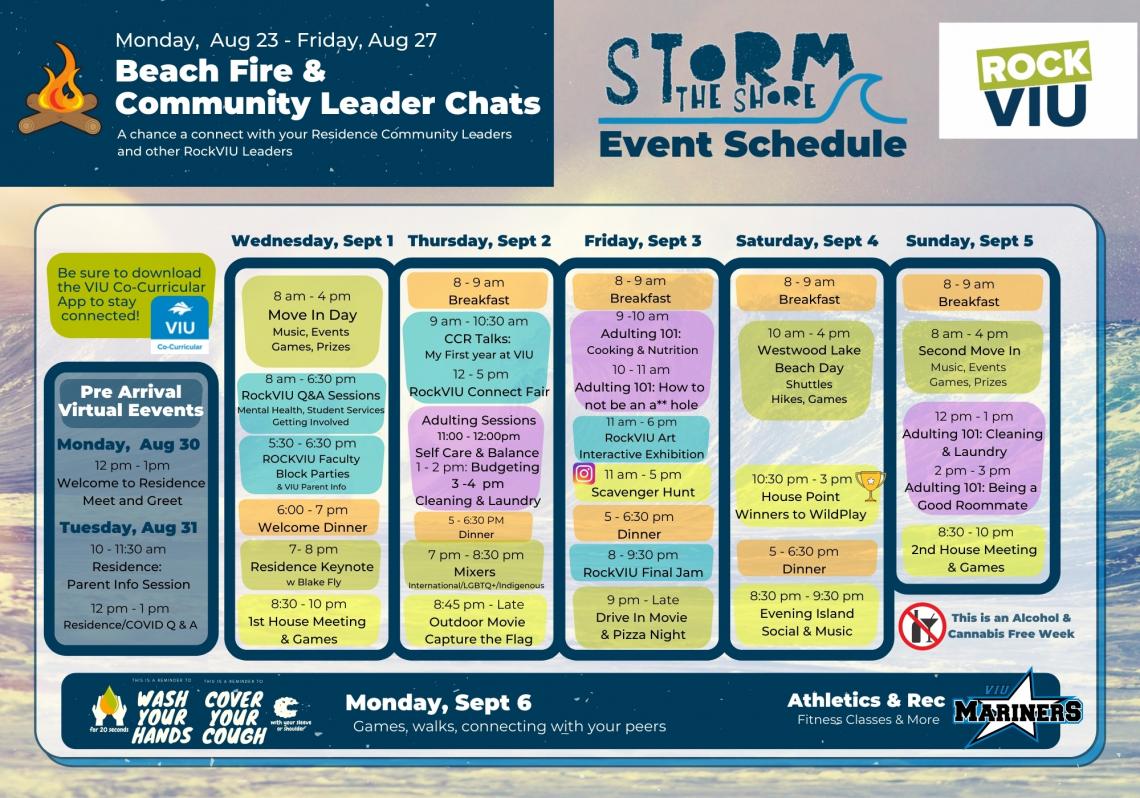 Storm the Shore COVID-19 Update
Based on the current circumstances on COVID-19, you are probably wondering, how will these changes affect VIU Residence Storm the Shore Orientation?
The short answer is that Storm the Shore in collaboration with Rock VIU is happening with a mix of virtual and in person events ! Last year Residence Storm the Shore Orientation and RockVIU was reimagined with an approach that supports Residence Students as well as all VIU students from all campuses (Nanaimo, Powell River, Cowichan) by creating an immersive and inclusive virtual experience with a mix of fun, engaging, service-oriented and student-focused activities. They have expanded their delivery to include a hybrid approach of in person and virtual events.
Like last year, this year's event will continue to be jam packed with exciting activities designed to orient students with the VIU Residence and its community, VIU campus, resources, the City of Nanaimo, Residence and VIU services, while also connecting students with their Faculty, Residence Staff and peers. RockVIU and Storm the Shore activities will promote a sense of belonging, self-efficacy and provide a strong welcoming experience for students at VIU.
Storm the Shore events will now exist in a face to face and virtual format through the application of Zoom and through the VIU's new Co-Curricular APP. All event sessions and Residence Specific Stream will be recorded and uploaded to the Residence Guide on VIU's new Co-Curricular application.
More details to follow in July on VIU's new Co-Curricular app hosted by the Office of Co-Curricular Engagement & Learning.
Pictures from Previous Orientations
Why sign up for VIU Residences Student Orientation?
You are able to unpack and move in without the added stress of school starting right away!
Gives you time to explore VIU campus and surrounding areas. You can find where your classrooms are located as well as shopping areas near by.
Meet all your fellow student residents and community leaders! Plus, you have a chance to bond with others during orientation activities instead of diving into individual academics right away. 
You're able to get your textbooks ahead of time if you wish, get your Student ID at the library, and any other school items required!
Plus, you can gain interpersonal skills during our educational interest sessions, have fun at residence events/socials, and VIU Resident merch!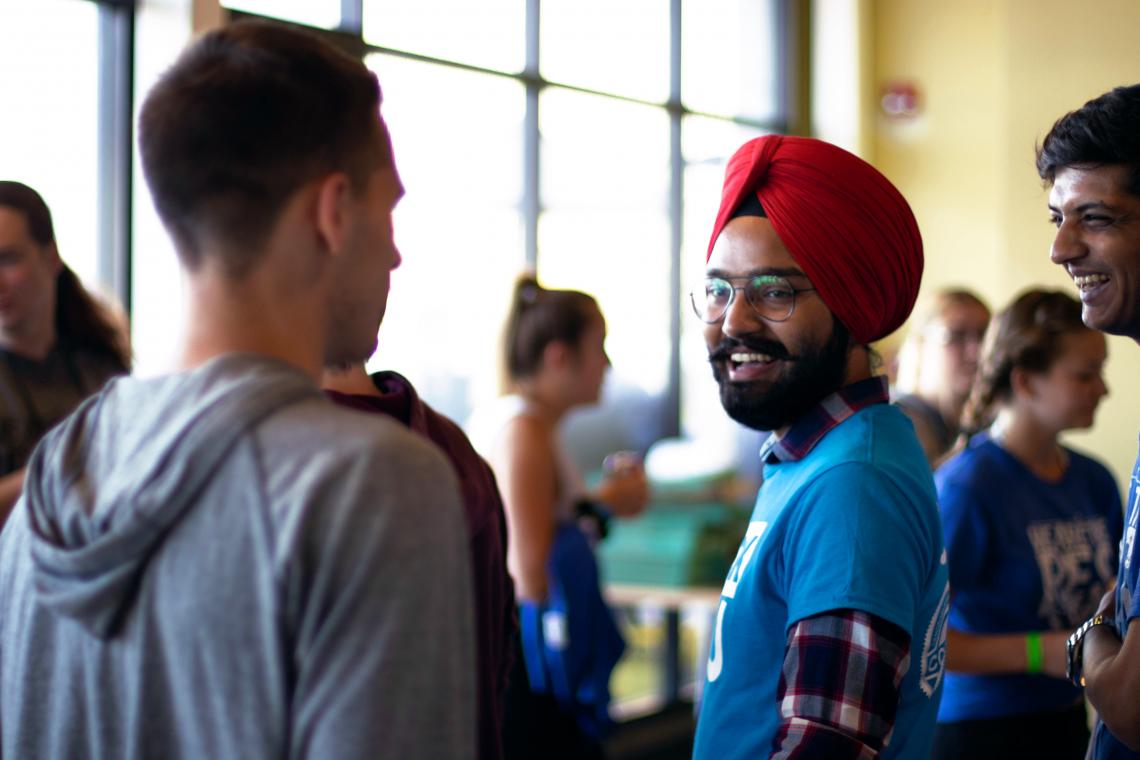 After moving into your new home, you will be treated to events that include an opening keynote address, interest sessions, how to adult sessions, and much more. At the conclusion of the RockVIU and Storm the Shore 2021 program we hope you will feel connected to your new community and will have made many friends along the way! The Residence Orientation program is an alcohol free program.
The cost for the Residence Storm the Shore Orientation Program is $250 and includes swag, meals, and entrance into all activities.
Get information on how to get to Vancouver Island University.
Additional days are available at a rate of $30/night if you choose or are required to move in before Sept. 5 2021.
Looking forward to welcoming you to the ResTide Community!