Storm The Shore:

Residence Welcome Week Onboarding
Storm The Shore is an opportunity for new students to explore the campus, meet the Residence Staff, and make new connections with their peers. In partnership with RockVIU: Welcome to Campus, this five-day week is full of in-person events aimed to explore the theme of Connect, Engage, and Discover.  
This year's event will continue to be packed with exciting activities designed to familiarize students with the VIU Residence and its community, VIU campus, resources, the City of Nanaimo, Residence and VIU services, while also connecting students with their Faculty, Residence Staff and peers. RockVIU and Storm the Shore activities will promote a sense of belonging, self-efficacy and provide a strong welcoming experience for students at VIU. 
Take a look at our schedule below for Storm the Shore: Residence Onboarding for Fall 2023 below.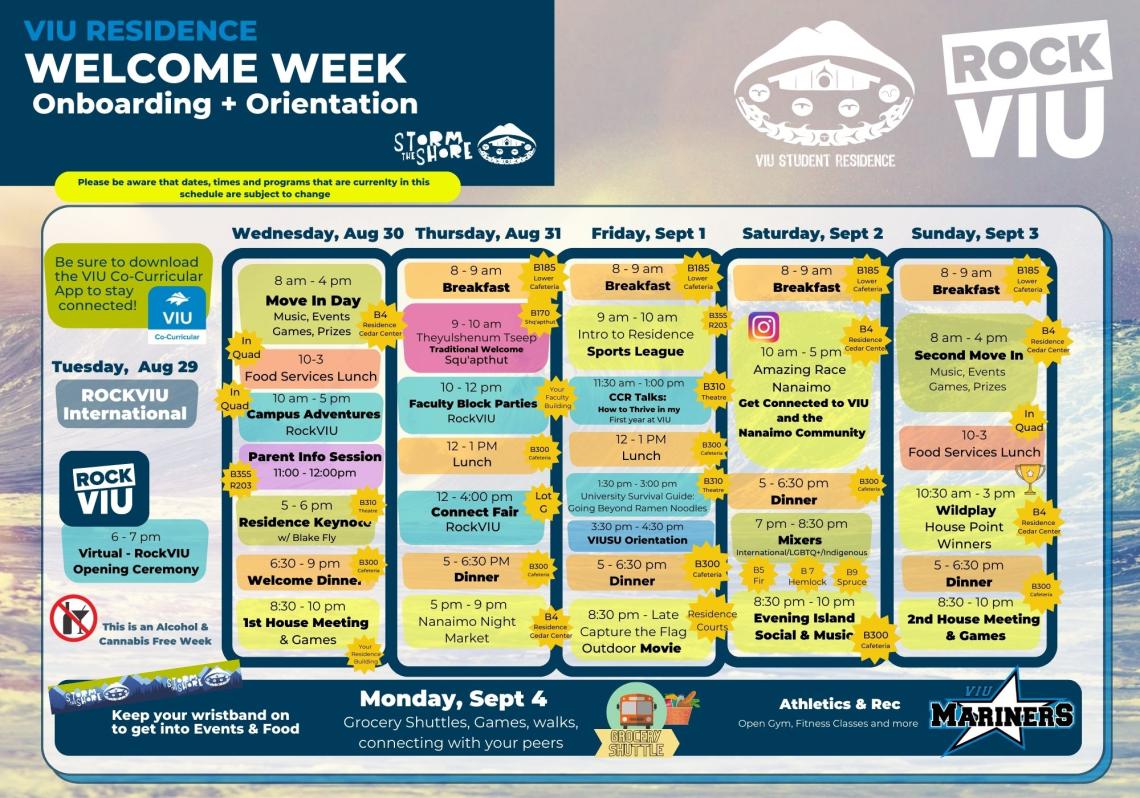 Storm the Shore: Residence Onboarding program is an alcohol & cannabis free program.  Consumption of any substance is prohibited during the Orientation week. 
Why sign up for VIU Residences Student Orientation?
You are able to unpack and move in without the added stress of school starting right away! 
Gives you time to explore VIU campus and surrounding areas. You can find where your classrooms are located as well as shopping areas nearby. 

Meet all your fellow student residents and community leaders! Plus, you have a chance to bond with others during welcome week activities instead of diving into individual academics right away.  

You're able to get your textbooks ahead of time if you wish, get your Student ID at the library, and any other school items required! 

Plus, you can gain interpersonal skills during our educational interest sessions, have fun at residence events/socials, and VIU Resident merch! 

After moving into your new home, you will be treated to events that include an opening keynote address, interest sessions, how to adult sessions, and much more.  
At the conclusion of the RockVIU and Storm the Shore program we hope you will feel connected to your new community and will have made many friends along the way!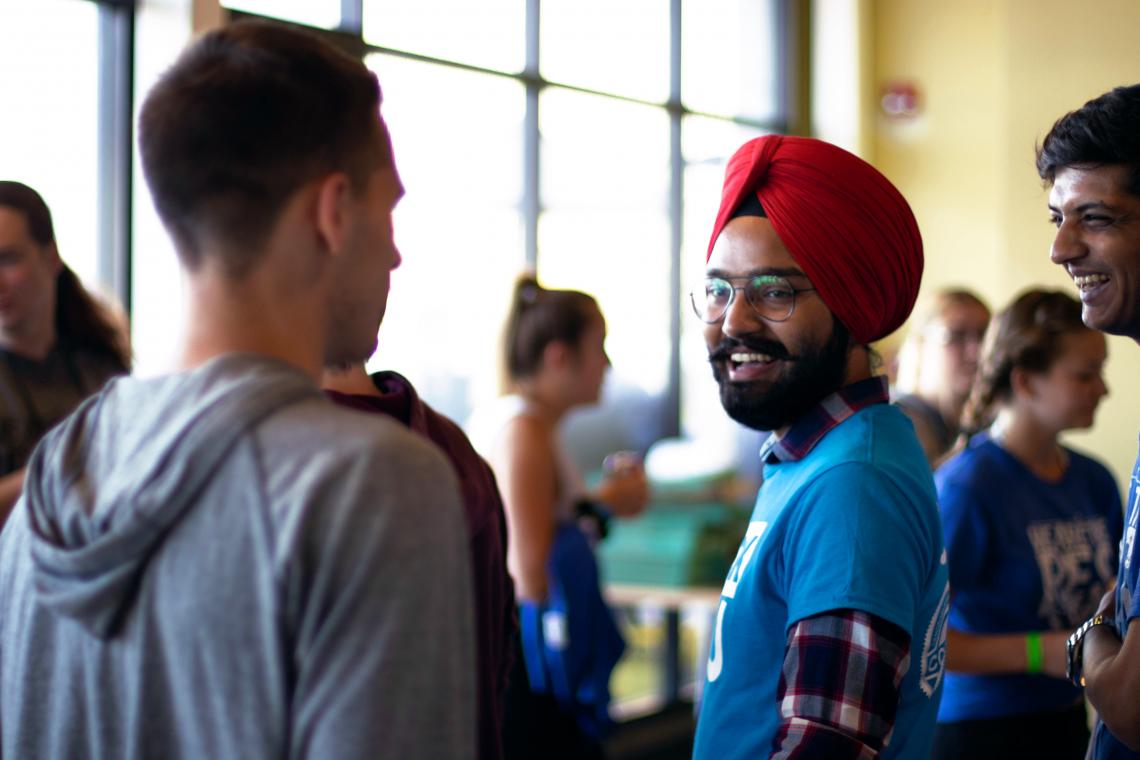 Pictures from Previous Orientations
Onboarding week is full of loud music, games, and activities that can be overstimulating to some people, especially on our typical move-in days. There are loud onboarding activities happening on residence and on VIU's campus from 8 AM - 11 PM every day. If you are someone who can be overstimulated by crowded spaces, loud noises and loud music, but want to attend welcome week, we recommend that you utilize our "Quiet Move-In" times. If you have any questions about what to expect during orientation, please contact us at residence@viu.ca 
Fall 2023 

Move-In Options
Wednesday, August 30th - 9 AM - 3 PM 
Storm the Shore: Residence Onboarding Move in Day  
Sunday, September 3rd - 9 AM - 3 PM 
Second Move-In Day (If you are NOT attending Storm the Shore) 
If you are attending the International and/or the MBA Onboarding Day on Tuesday August 29th, you can request to move in on Monday August 28th 

If you want a low stimulus move-in day, you can request to move in on our Quiet Move-In Days:


Tuesday August 29th -  10 AM - 2PM 

Monday September 4th (If you are NOT attending Welcome Week) 
Q

uiet

 move-in times of 8 AM - 

9 AM
, and 
after 3 PM
On either Wednesday August 30th, 2023


On Sunday September 3rd, 2023
We are looking forward to welcoming you to the Residence Community! 
Note: Students attending VIU Residence's Welcome week are required to pay the Onboarding Activities Fee, Early Move-In Room Fees and Introductory Meal Plan Fee. These fees include a full five-days of music, games, info sessions, community mixers, evening events, off-campus excursions, 3 meals/day** and more! 
My Fees for Welcome Week
The Onboarding Activities Fee, Early Move-In Room Fees and Introductory Meal Plan Fee is mandatory for those arriving before Sunday September 3, 2023.  
Onboarding Activities Fee: $100 
Early Move-In Room Fees: $30/Night x 4 Nights = $120 
Introductory Meal Plan Fee: $30/Day x 5 Days = $150** 
**Meal fees not used during welcome week will remain in the student's account and can be redeemed anytime throughout the school year.   
To sign up for Residence Welcome Week & Onboarding please Log into your Portal and go to the my fees sections and select extra items for arrival where you can sign up for orientation
If you are moving into VIU Residences this fall and want to attend Storm the Shore: Residence Onboarding, but are unable to due to financial restraints, we encourage you to contact us at residence@viu.ca! We don't want these fees to be a barrier for your attendance, we have options and want to find a way for you to attend our welcome week!